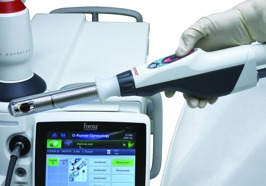 Benefits of G-Runner
Supreme accuracy and precision of laser energy deposition
in vaginal mucosa
Easy to use, fully automatic operation
Short treatment time
Increased comfort for the patient and operator

What is G-Runner?
The Fotona G-Runner™ is an automated control system for
SMOOTH® mode gynecological treatments with Fotona's
Er:YAG laser systems, enabling optimized treatment times with
increased comfort for both patient and operator.
How Does it work?
Treatments with G-runner™ are exceptionally easy to perform.
G-runner™ provides automatic delivery of laser energy to the
vaginal canal by utilizing a precise microprocessor controlled
positioning system to consistently provide safe, fast and uniform
delivery of SMOOTH® laser pulses along each position of the
vaginal wall. Depending on the indication and patient's anatomy
(the size of the vaginal opening and the elasticity of the vaginal
canal), G-Runner™ supports accessories to facilitate an optimal
laser treatment. This includes a set of full-beam and fractional beam
optical modules as well as different sizes of speculums.